In the current digital era, both individuals and companies look for ways to create passive revenue streams. Affiliate marketing, a performance-based marketing technique that pays affiliates for bringing customers or traffic to a merchant's website, is one such profitable route. Due to its extensive product range and widespread visibility, the Amazon Affiliate Program stands out among the vast number of affiliate programs offered as the best option for many.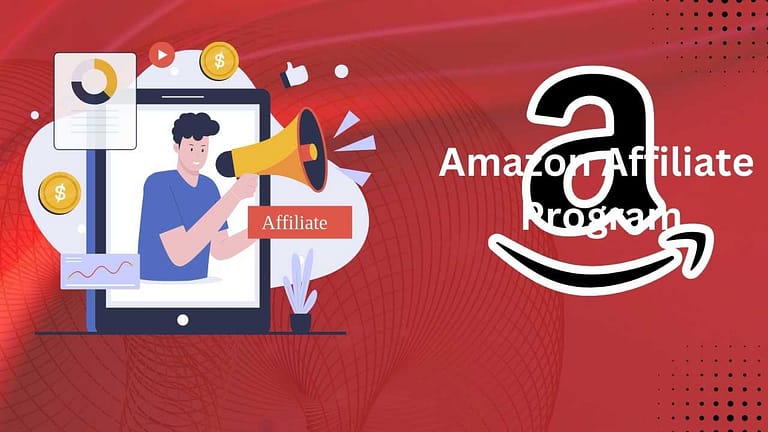 Table of Contents
What is the Amazon Affiliate Program?
The Amazon Affiliate Program, also known as Amazon Associates, is a program designed by the world's largest online retailer, Amazon. It enables participants (affiliates) to promote and earn commissions on products sold through their referral links. As an Amazon affiliate, you essentially become a marketing partner for Amazon, driving potential buyers to their platform and earning a commission for each purchase made through your unique affiliate link.
How Does the Amazon Affiliate Program Work?
Joining the Amazon Affiliate Program is a straightforward process. Once approved, you gain access to a wide array of Amazon product links and banners that you can embed on your website, blog, or social media platforms. When a user clicks on your affiliate link and makes a purchase on Amazon, you earn a commission on that sale. The commission rates vary depending on the product category, but they can range from 1% to 10% or even higher in some cases.
The Benefits of Joining the Amazon Affiliate Program
The Amazon Affiliate Program offers numerous benefits that attract aspiring affiliate marketers:
Vast Product Selection: With millions of products available on Amazon, affiliates can choose products relevant to their niche, expanding their earning potential.
Trusted Brand: Amazon's reputation as a reliable and customer-centric platform increases the trust factor for potential buyers, making it easier to convert leads into sales.
Global Reach: Amazon operates in numerous countries, allowing affiliates to target international audiences and further diversify their income streams.
Passive Income: Once set up, affiliate links can continue generating income even when you're not actively promoting them, making it a source of passive income.
Analytics and Reporting: Amazon provides comprehensive analytics and reporting tools that help affiliates track their performance and optimize their marketing strategies.
Tips for Successful Amazon Affiliate Marketing
To succeed as an Amazon affiliate, consider implementing the following strategies:
5.1 Choose the Right Niche
Select a niche that aligns with your interests and expertise. Focusing on a specific niche allows you to establish authority and credibility, attracting a more targeted audience.
5.2 Create Quality Content
Produce valuable and engaging content that offers genuine insights and addresses your audience's pain points. High-quality content builds trust and encourages readers to click on your affiliate links.
5.3 Utilize Various Marketing Channels
Diversify your marketing efforts by leveraging multiple channels such as blogging, social media, email marketing, and video content. Each channel has its unique audience and can contribute to your success.
5.4 Monitor and Analyze Performance
Regularly review your affiliate performance using Amazon's analytics tools or third-party plugins. Identifying the most successful strategies allows you to optimize your campaigns for better results.
Common Mistakes to Avoid in Amazon Affiliate Marketing
While the Amazon Affiliate Program offers great potential, it's essential to avoid common pitfalls:
6.1 Violating Amazon's Terms of Service
Amazon has strict guidelines that affiliates must adhere to. Violating these terms can result in account suspension or termination, leading to loss of income.
6.2 Overpromoting Without Providing Value
Excessive promotion without offering value to your audience can lead to a lack of trust and engagement, ultimately affecting your conversion rates.
6.3 Ignoring Mobile Users
With the growing use of mobile devices, ensure your website and content are mobile-friendly to reach a broader audience.
6.4 Neglecting SEO and Keywords
Incorporate relevant keywords and optimize your content for search engines to increase organic traffic to your affiliate links.
Amazon Affiliate Program vs. Other Affiliate Programs
While the Amazon Affiliate Program is popular, it's crucial to compare it with other affiliate programs to make informed decisions about your marketing strategy. Some programs may offer higher commission rates, while others might have more specific product offerings.
How to Sign Up for the Amazon Affiliate Program
To become an Amazon affiliate, follow these steps:
Visit the Amazon Associates website and sign in with your Amazon account or create a new one.
Fill out the application form with relevant information about your website and marketing strategies.
Wait for approval, usually taking 1-3 business days.
Once approved, explore the Amazon Associates dashboard and access your unique affiliate links and marketing assets.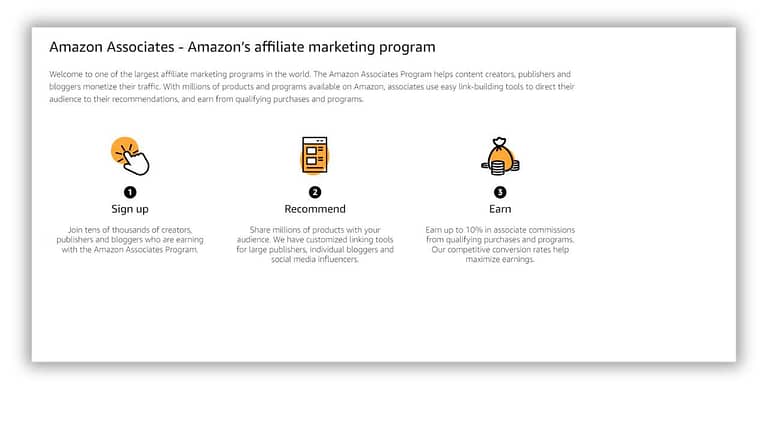 How Do You Create Amazon Affiliate Links?
Creating Amazon affiliate links is a straightforward process that allows you to earn commissions on products purchased through your referrals. Follow these steps to create Amazon affiliate links:
Sign up as an Amazon Affiliate: To get started, visit the Amazon Associates website and sign up for the program. You'll need an Amazon account to proceed.
Get Your Affiliate ID: Once approved as an Amazon affiliate, you'll receive a unique affiliate ID. This ID is crucial as it helps track the sales generated through your links.
Log in to Your Amazon Associates Account: Use your Amazon account credentials to log in to your Amazon Associates dashboard.
Search for Products to Promote: In your dashboard, you'll find a search bar where you can look for products you want to promote. Enter the name or keywords related to the product you wish to promote.
Generate the Affiliate Link: After finding the product you want to promote, click on the "Get Link" or "Text" button next to the product listing. This will generate your affiliate link for that specific product.
Customize Your Affiliate Link (Optional): Amazon provides an option to create a customized affiliate link, which allows you to use a shorter and more user-friendly link. You can also use the Amazon SiteStripe feature to generate affiliate links directly while browsing Amazon's website.
Test Your Affiliate Link: Before sharing the affiliate link, it's essential to test it to ensure it's working correctly. Click on the link to see if it directs you to the correct product page on Amazon.
Promote Your Affiliate Links: Now that you have your affiliate link, you can start promoting it on your website, blog, social media, email newsletters, or any other platform where you have an audience.
Adhere to Amazon's Policies: Make sure to comply with Amazon's affiliate program policies and guidelines to avoid any account issues. This includes disclosing that you are using affiliate links on your website or platform.
Track Your Performance: Use the reporting and analytics tools provided by Amazon Associates to track your performance. This helps you monitor your earnings, conversion rates, and the success of your marketing efforts.
Remember, the key to successful affiliate marketing is providing valuable content and genuine recommendations to your audience. By promoting products that align with your niche and resonating with your readers, you can increase the chances of earning commissions through Amazon affiliate links.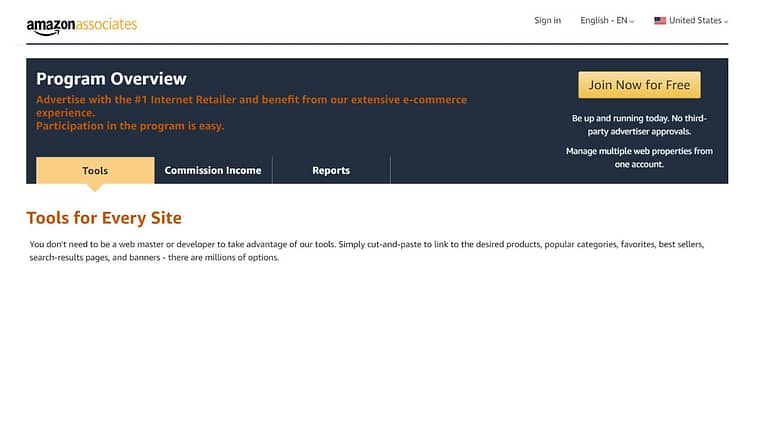 Frequently Asked Questions (FAQs)
9.1 What is the Amazon Affiliate Program's commission structure?
The commission rates vary based on product categories, ranging from 1% to 10% or more.
9.2 Can I promote Amazon products on social media?
Yes, you can use your affiliate links on various social media platforms to reach a wider audience.
9.3 Is the Amazon Affiliate Program available worldwide?
Yes, the Amazon Affiliate Program is open to affiliates from many countries around the globe.
9.4 How long does it take to start earning commissions?
The time it takes to earn commissions depends on factors such as your marketing efforts and niche competitiveness.
9.5 Can I use affiliate links on my own purchases?
No, using affiliate links for your own purchases violates Amazon's terms and is not allowed.
Conclusion
The Amazon Affiliate Program presents a lucrative opportunity for individuals and businesses to earn passive income through affiliate marketing. By leveraging effective marketing strategies, producing high-quality content, and maintaining compliance with Amazon's guidelines, you can unlock the program's full potential. Get started today and embark on your journey toward a successful and rewarding affiliate business.
Watch this Video
You May Read This : Amazon affiliate program in India, Affiliate marketing Program in India